President Musa Bility of the Liberia FA says he will step aside if CAF President  Issa Hayatou enters the race for the FIFA Presidency.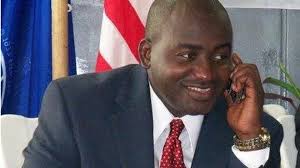 In June Musa Bility announced his intention to contest for the top FIFA job after President Sepp Blatter announced he would step down.
"I believe that if the President of CAF puts up his hand up to run, I would definitely bow out of the race for him," Bility told BBC Sport.
The 48-year-old Bility who has been President of Libera FA since 2010 is the second person to declare his candidacy after former Brazil international Zico. Musa Bility is only the second African to make a bid to become President after Hayatou lost to Blatter in 2002.
The LFA Supremo admits that he has not yet spoken directly to Hayatou about his bid.
"Well I'm aware that he has got the message and I have an indication of his reaction, and it's not negative," he said.
"The fact is that I have not spoken with him and I intend to do that very soon."
Asked about his turbulent past with the CAF President, Bility insists that their differences are now history and wants Hayatou to give him a chance.
"I think after all the storm, we have come to appreciate each other," he said.
"In the last two years, we've worked closely with each other and so he knows what I'm capable of doing and I'm sure he himself would love to see reform, and definitely they all know I'm a reformist.
"I would tell him [Hayatou] to give me the chance to make you proud – give me the chance to make Africa proud."
FIFA will host an Extraordinary meeting of its Executive Committee in July when the date for the Presidential elections will be fixed probably between December 2015 and March 2016.