When it comes to a boring football match, most fans have little option but to grin and bear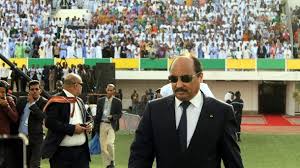 it. Not so with Mohamed Ould Abdel Aziz, President of Mauritania, who in the 63rd minute of the Supercup match between FC Tevragh-Zeina and ACS Ksar, decided enough was enough and brought the action to an end – ordering the referee to proceed straight to penalties.
Despite having saved supporters having to wait out the second half and possibly extra time, the President's move has excited controversy in the North African country, with the fans of ACS Ksar, who lost the penalty shoot-out, up in arms.
Nevertheless, after a period of consideration, the Head of the Mauritanian Football Federation, clearly struggling to reconcile the actions of the President, who has ruled the country since seizing power in a military coup in 2008, and FIFA's requirements for non-interference by government in football, announced that: "I deny in the strongest terms the intervention of the President of the Republic. The decision was made due to organisational issues in accordance with the presidents and the coaches of the two teams."
It is understood the President had important affairs of state to attend to, the match being played on 55th anniversary of the country's independence.
It remains to be seen if FIFA will take any action, or if the President's actions might establish some kind of precedent.