Though no date has yet been fixed for elections to replace Joseph Sepp Blatter but already a second candidate has expressed interest in taking over as FIFA President. After former Brazil superstar Zico, Musa Bility (pictured), President of the Liberian Football Association has said he will run as a Candidate for the top job in World Football.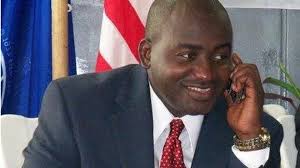 President Bility would be the first African contender since CAF president Issa Hayatou lost to Sepp Blatter in 2002.
Speaking to the BBC, Bility said Africa simply had to have a challenger: "If Africa does not put up a candidate, it says a lot about us," he said.
"It shows a sense of mediocrity and that our only relevance is to vote and make leaders. I think that is not right.
"Africa is the largest voting bloc in FIFA and we must take the lead to bring football together."
"People know me to be bold, upright, outspoken and highly opinionated," said Bility who believes he can acquire the five necessary nominations. "I say it like it is. When it's not right, I don't back down and I think that has gained me some respect.
"I have spoken to about half a dozen of the Presidents of African football and I have their support – you can see the excitement," he said.